A passion at first sight, Nicolas Achim, owner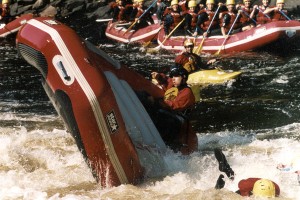 The title talks about "owner's thoughts", but we could have wrote "Speech" of the owner, as the following thoughts are so long, that I am not sure anyone will ever reach the end. But if you like to read and are patient, please take the time and enjoy the reading. This way, you will understand the passion and devotion that push me, year after year, to run an enterprise where the human and its personality is my main concern.
Aznavour sang « I was twenty, I was caressing time ». I did not caress it; I whipped it, the freezing spring water helping me. But this coldness became deep warmth inside me. The happiness I am feeling in these moments is so high that it keeps my fingers warm regardless the 4°C water of season's beginning. 23 seasons now that I personally face my fears, that I learned to manage them, and that have now became healthy nervousness.
When we are seventeen, we grab every opportunity, but we never really know where it is going to lead us. I was not an exception when I first put my foot on that inflatable "thing", called apropulsion-rafting-riviere-rouge-president-3 raft, way more ready to rumble than me. My thoughts after my first experience were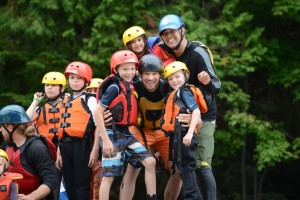 "What a crazy job". Hopefully, my mother is the only witness of this temporary madness, which I now know, could have caused my loss.
As I said, seventeen is when we take every single chance to live intensely, and fortunately, or unfortunately, we forget fast all the sufferings. So, only two weeks later, I signed up for a raft guide training on the Rouge River. And clack! The trap that now leads my life closed on me as gentle as we close a book that reached our heart.
35 years, and the Rouge still shape my life
I say « leads my life », because this is through this activity that the best part of my life came to light. Rafting is the challenge, right. But it is also the adventure that pushes our physical capacities and stress resistance further each time. We are developing our leadership, our self-esteem, our self-confidence and wepropulsion-rafting-riviere-rouge-president-2 are surpassing ourselves. And more than everything, rafting is a renewable occasion to meet fantastic people.
Personally, I have been more than lucky within those years, as friends' circles rose and stayed tight. Affinities are numerous with raft guides or customers, and the social aspect of the sport enhances the exchanges, making the affinities easier to explode. And by the end, soul's sisters may find each others, as it happened to me: I found a generous and amazing woman who accepts my whitewater passion since the past 20 years.
Here I am, owner of this incredible dating enterprise…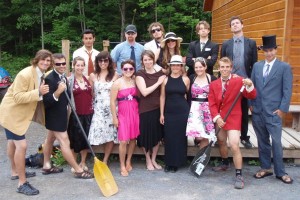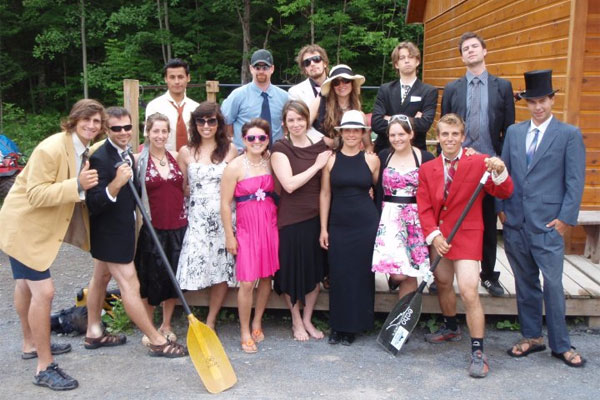 sorry, rafting enterprise. I am happy to see the wheel turning, as more and more people discover the sport. Making the passion emerge, keeping the good-companionship alive, developing everyone's soul, offering a unique and fascinating experience… These are the ultimate objectives I am focussing on, way over the simple money side of the business.
Still a lot of work to do
We still have numerous challenges to work on, as the sport is not well known or misjudged by others. As I am deeply convinced that this sport can be practiced by people of all ages, there are still several people to convince. Security must be more than perfect, so every customer feels secure the moment he comes to us. If sometime we are playing, making some getting a little anxious, the real purpose is to make them feel like they went beyond their fears.
In order to get the sport better known, I can rely on the best people, as the members of my team. Propulsion's raft guides are the best ones, and I could not doubt of it, even for a second. No irresponsible or reckless person, no dating lovers… They are men and women of all ages with strong responsible minds and a growing passion. They share a quest for good actions and the desire to share what life has the best to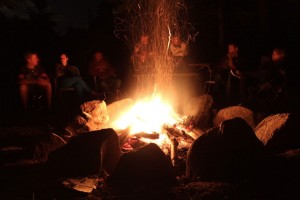 offer. I can only feel pride and admiration when I think about them. Propulsion's team keeps growing and the payroll slowly changes in a list of true friends.
This is through friendship support that I am looking over the 10 next years. My goal is to build more specific and complete trainings and activities, to develop training dedicated to the enterprises. I also cherish the project of a program for primary and secondary schools. This program will allow students to learn the knowledge and values I cherish : whitewater safety, responsibility, self-confidence and good-companionship. These values are omnipresent in our team and being able to teach and share them as competences would give us pride and happiness that worth the effort.
I could keep writing more and more about what the Rouge River has to offer to whom tries it. But the best thing is to come and discover it yourself, so you create your own story. Let your own passion come to light.
Lets share unforgettable whitewater memories together this summer whit rafting, sportyacking or new in 2015, with a cataraft!
Nicolas Achim
Guide since 1989
Owner since 2003